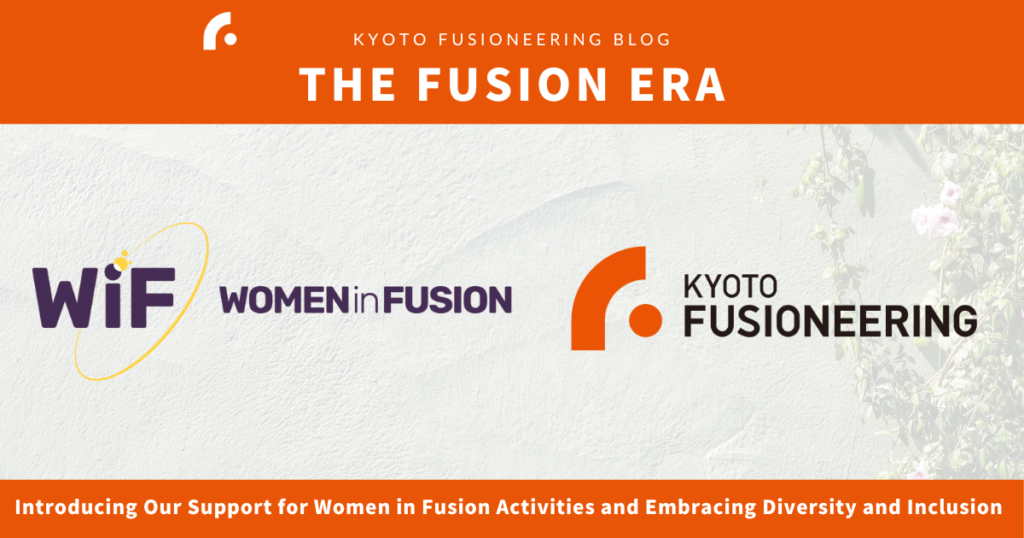 The term "Women in Energy" encompasses the involvement and contributions of women in the energy sector, which spans various industries related to the production, distribution, and utilization of energy resources. As the fusion industry intensifies its efforts to combat climate change, it draws insights from the experiences of other energy sectors, particularly in the realms of Diversity, Inclusion, and Equity. One notable example of these endeavors is Women in Fusion (WiF).

WiF group was founded in May 2022 at the first official WiF Steering Committee meeting. The foundation for WiF was indeed set in May 2021 at the IAEA Fusion Energy Conference 2020 webinar. Their mission revolves around promoting women in science across all educational levels and advocating for inclusive practices to strengthen women's presence and leadership roles within fusion organizations. WiF was established by IAEA, ITER, EURofusion, General Atomics, Fusion for Energy, and IYNS, and it receives support from the Fusion Industry Association, the IAEA nuclear fusion community, and fusion entities including us, Kyoto Fusioneering (KF).

On September 20, 2023, "Women in Fusion" (WIF) hosted a webinar exclusively for members and contributors from the European region. KFUK Stefan Richer, our intern, and Vojna Ngjeqari, PR & Marketing Specialist at Kyoto Fusioneering, attended the event.

The webinar featured presentations from the "Women in Fusion" Steering Committee, as well as insights from WiF Europe representatives and WiF members. During the event, several speakers highlighted their organizations' activities and best practices:

Sehila Gonzalez de Vicente, Chair of Women in Fusion, elaborated on the pivotal role of WiF and its multifaceted initiatives. Among these initiatives is the mentorship program, designed to provide comprehensive support to mentees from diverse backgrounds, including scientific, engineering, legal, administrative, and more. The program aims to foster career development, goal setting, leadership skills, and work-life balance, among other aspects.

Alessia Vecchio, Head of Administration at Fusion for Energy (F4E), discussed F4E's progress in enhancing diversity, equity, and inclusion (DEI) within their hiring practices. She highlighted how these practices have led to an increased presence of women within the organization.

Vivian Lee, Lead of the Plasma-Facing Components Section at Tokamak Energy, shared some of the diversity and inclusion practices implemented by her company. Notably, they have been proactive in educating schools about fusion to address DEI concerns.

Laura Dittrich, a Doctoral student at KTH Royal Institute of Technology, shared her personal experience with the WIF (Women in Fusion) mentorship program and how it has positively impacted her career journey.

After attending the webinar, Stefan and Vojna shared their thoughts:

Stefan remarked, "I was impressed by the webinar – the strategy seemed unified and well-considered, with a combination of top-down and bottom-up efforts being made to reach both women in established roles and girls in education. Additionally, WiF comprises several efforts, from mentoring and networking to promoting best practices and addressing bias. I am glad that organizations such as WiF exist and are bringing these discussions to the forefront of our field."

Vojna said, "I believe that achieving fusion is not solely a technological endeavor; it's about developing a consciously inclusive human capital composition. To realize fusion's potential in ending energy poverty and addressing the gender inequalities stemming from energy access disparities, we must involve women in every aspect, from technology design to energy policies. WiF is a facilitator of this transition."

At KF, we recognize the vital importance of nurturing diversity, encompassing a spectrum of backgrounds, perspectives, and experiences within our global organization. This commitment extends to individuals of diverse ethnicities, races, religions, genders, sexual orientations, disabilities (both apparent and non-apparent), ages, educational backgrounds, social classes, and more.

Our dedication to Diversity, Equity, and Inclusion (DEI) is reflected in several ways:
KF proudly supports the Women in Fusion Organization, actively contributing to its mission.
KF is an enthusiastic supporter and member of the Fusion Industry Association Diversity Equity Inclusion Committee, engaging in collaborative efforts to promote inclusivity.
We are committed to developing hiring practices that foster a truly inclusive work environment—one where diversity is not merely a presence but a core element of involvement, development, empowerment, and trust. We understand that genuine diversity efforts transcend surface-level companywide announcements.
Share Impact – With organizational storytelling, we communicate, demonstrate and highlight both DEI goals, lived inclusion stories plans to increase diversity.