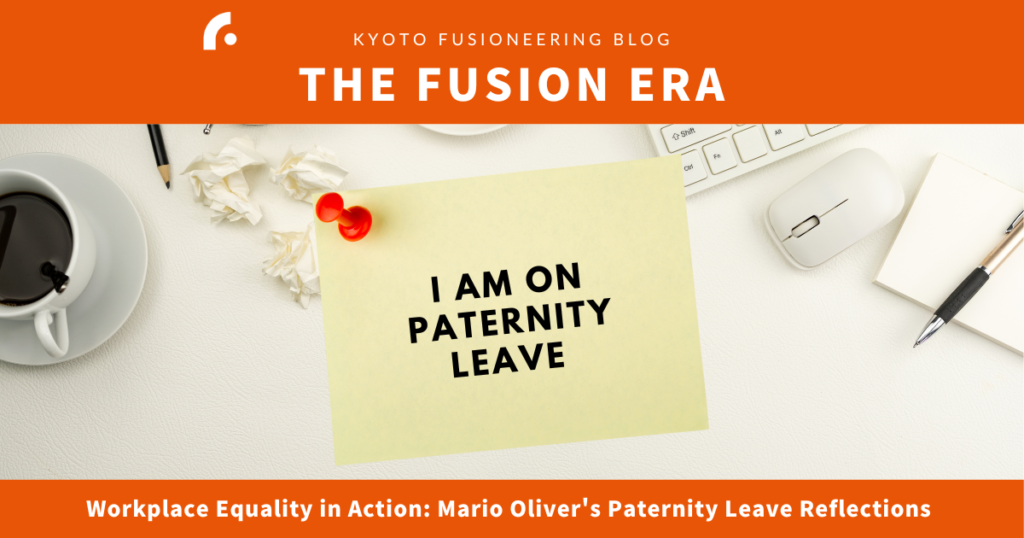 In 2003, a significant shift in family policy occurred in the UK with the introduction of paid paternity leave, granting eligible fathers the opportunity to take 10 days off around the birth or adoption of their child. While maternity and paternity leave regulations vary globally, Kyoto Fusioneering UK (KFUK) invests in implementing family-friendly policies. Mario's experience showcases KFUK's commitment to supporting its employees during life-changing moments, ensuring they can both nurture their families and excel in their careers.
1. How did you find out about the paternity leave policy at our company?
It all began during my interview process when I decided to disclose that my partner, Olga, was expecting a baby in three months. I was uncertain about whether this was the right timing to share this information. Revealing it too early might have affected my chances of being considered for the job, while disclosing it too late could lead to a loss of trust.

To my relief, KF welcomed the news and emphasised their commitment to maintaining a healthy work-life balance for their employees. They appreciated my honesty and provided me with details about the company's paternity leave policy, which allowed for two weeks off.

In particular, Richard Pearson (UK director and co-founder) showed his support, due to his own recent paternity leave. Additionally, he made a point of spending quality time with family and discussed with me the specifics of the company's policy's.
2. What was your initial reaction when you learned about the availability of paternity leave?
I very much appreciated the company's consideration for its employees' family needs but at the same time I was also surprised to find out that the paternity leave offered in the UK was relatively short compared to what I was familiar with in Spain, where paternity leave typically spans four months.

Nevertheless, I was pleased with the flexibility provided, allowing me to travel to Spain for periods and work from there, balancing my personal and professional responsibilities effectively as my family resided outside of the UK, due to difficulties relocating just prior to my baby being born. 
3. Did you feel supported by the company and your colleagues when you decided to take paternity leave?
Certainly! When the time came for the arrival of my baby, the company offered clear guidance on the paternity leave application process and provided valuable administrative support. This assistance made it much easier for me to apply for and take my paternity leave without any added stress, allowing me to focus on spending precious moments with my family. 
4. How did you plan for your absence during the paternity leave period?
During the planning for my paternity leave period, I faced a unique challenge as the KF Company "Global Camp" in Japan was scheduled around the same time my baby was expected to arrive. The company informed me about this event early on, and they showed remarkable flexibility by allowing me to decide whether I would participate in the trip or not, just two weeks before it.

Making the decision was tough, as I was eager to go to Japan to meet some of my international colleagues for the first time, but I knew that my enjoyment would be compromised by worrying about my wife and baby back home.

I decided to stay and not to risk missing the birth of Felicia under any circumstance. My colleagues were incredibly supportive and kept me involved even while I was away.
5. Did you feel that the duration of your paternity leave was sufficient?
Although any father would cherish more time with their new baby, I found the duration of my paternity leave to be satisfactory. In the UK, you can share the leave with your partner, allowing for a more extended period together. However, in my case, Olga was on maternity leave in Spain while I was on paternity leave for my UK-based job, so we couldn't take advantage of this.
6. Did you feel that taking paternity leave had a positive impact on your work-life balance and your role as a father/ caregiver?
Absolutely. Firstly, it allowed me to be fully present during the precious moments to bond with my first newborn. While the baby might not be consciously aware of my presence at that time, creating a strong connection was a priceless experience. I witnessed her very first breath and I will never forget the scent of new life in the air.

Secondly, since I opted not to take any days off before joining KF, the paternity leave served as a much-needed break for me. It offered a chance to clear my mind, and to recharge and rejuvenate (despite limited sleep!) both mentally and emotionally. 
7. Did you feel that taking paternity leave had a positive impact on your overall family dynamics and bonding with your partner?
Yes. As we tend to focus primarily on the baby after birth, I made sure to be attentive to Olga's needs as well. Being there for her and sharing the responsibilities helped us navigate this new chapter as parents and as a couple together.

During this time, we were able to support each other in caring for our newborn. We had open discussions about our relationship, coping with stress, handling difficult moments, and resolving disagreements. I told her that we should expect them to arise at times when we will have very little energy, so it was important to establish the emotional strategy now.
8. What do you think this meant for your partner?
I believe it provided Olga with a strong sense of support and encouragement to engage in normal activities which helped her feel empowered and motivated.
My presence during the birth of our baby was particularly significant to her. By sleeping in the hospital and constantly assuring her that she was brave and capable, I feel I helped alleviate any fear or anxiety she might have had. I expressed my love and pride in her and reassured her that she had the knowledge and ability to give birth. When our baby was born healthy, I thanked the Universe!