This blog series is dedicated to the Fusion Energy Conference, known as SOFE (Symposium on Fusion Energy) a prestigious international conference that gathers researchers, scientists, engineers, and experts from around the world. Here, we recount our experiences and the activities during this remarkable event. For more information you can also visit the official event website and Youtube.

Kyoto Fusioneering participated in the IEEE Symposium on Fusion Engineering (SOFE)  conference from July 9-13. This time we will share some highlights of our activities in the event.

SOFE is a prestigious biennial conference dedicated to advancing fusion excellence. Organised by the Fusion Technology Standing Committee of the Nuclear Plasma Science Society (IEEE NPSS), SOFE brings together experts and enthusiasts from the fusion field.

SOFE 2023 took place at the iconic University of Oxford Examination Schools, in the vibrant city of Oxford. The event was successfully hosted by the esteemed UK Atomic Energy Authority (UKAEA), serving as a platform that united the global fusion community.

Kyoto Fusioneering is honoured to have had the opportunity to support and sponsor the conference, playing a role in promoting knowledge exchange, innovation, and international cooperation in the field of fusion energy research. 

Kyoto Fusioneering's presence at the SOFE2023
Professor Konishi Satoshi, our Chief Fusioneer delivered a compelling plenary talk on the UNITY project, and our dedicated team of researchers and experts presented three informative posters, disseminating novel findings and technical insights in areas crucial to fusion energy research in cooperation with Atkins and UKAEA.

In addition, our satellite session focused on Global Public Private Partnerships in fusion research, emphasising the importance of international collaboration and the role of private entities in accelerating fusion technology's development.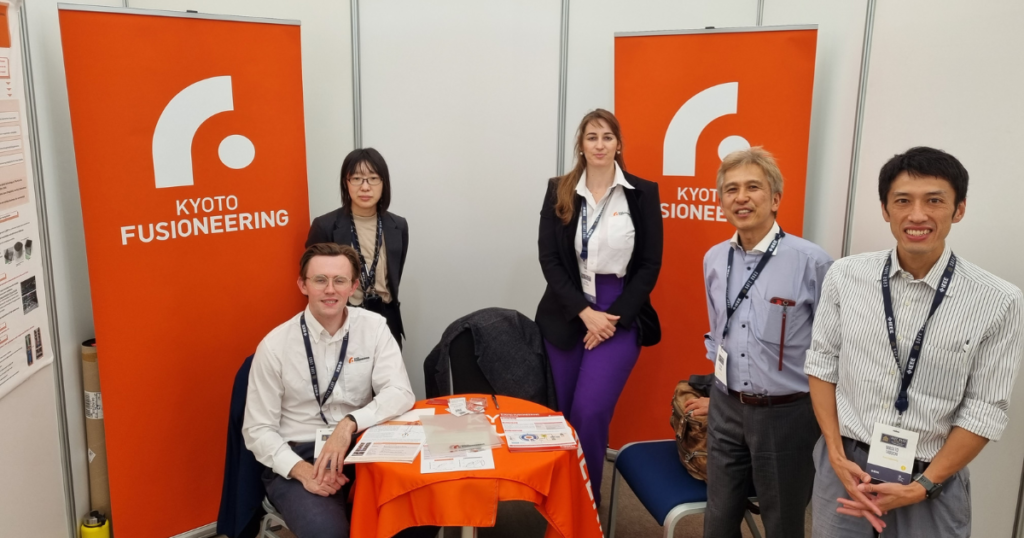 Chief Fusioneer, Satoshi Konishi's Presentation: Every Seat Filled!

Our Chief Fusioneer, Prof. Satoshi Konishi, presented the Overview of the UNITY blanket testing station at SOFE23. The presentation generated significant interest within the fusion energy community. During his presentation Prof. Konishi invited participants to explore our cutting-edge testing facility.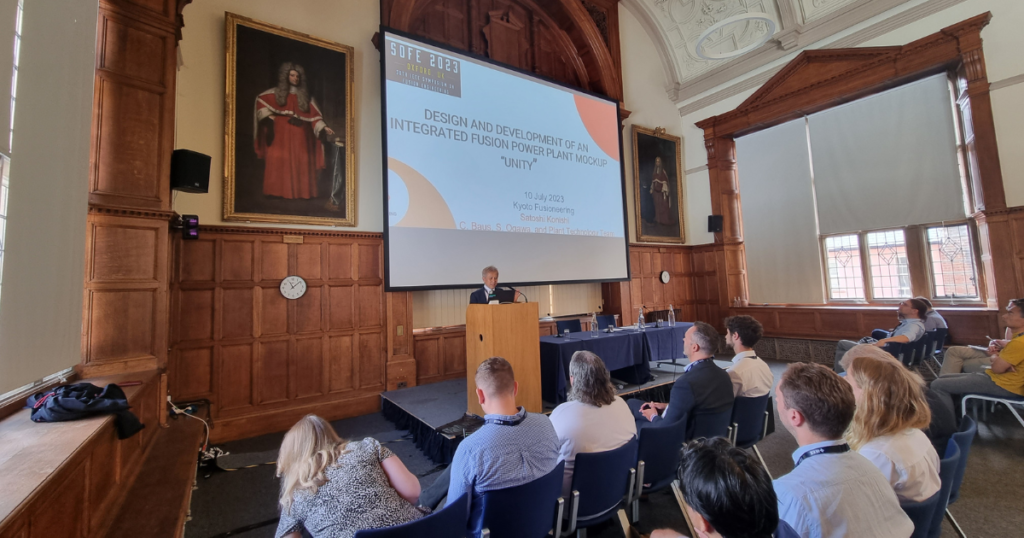 Posters by our significant researchers and experts
1. Maki Okada Gyrotron Poster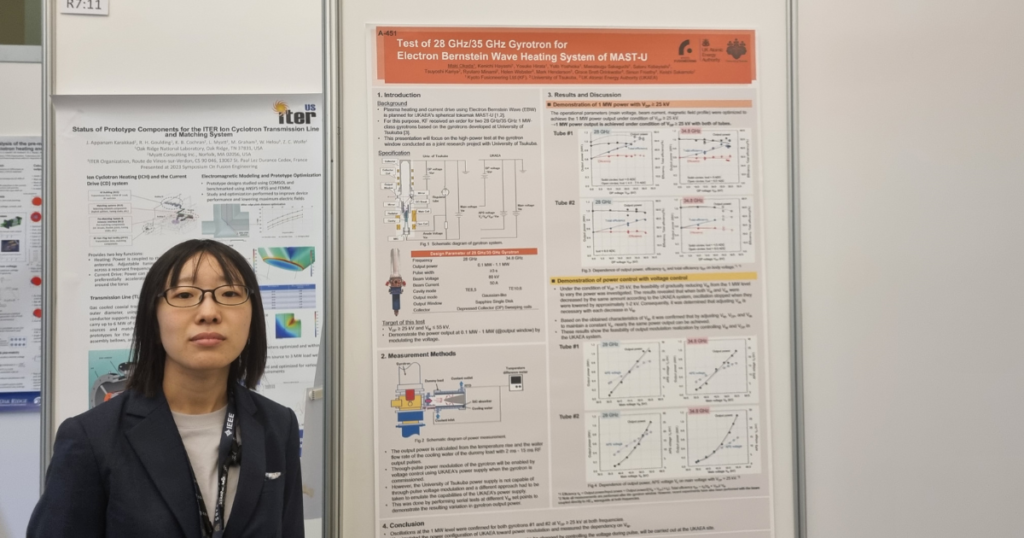 Kyoto Fusioneering will provide dual frequency microwave heating sources (gyrotrons) for MAST Upgrade (Mega Amp Spherical Tokamak), based at Culham, near Oxford, UK.
A key aim of MAST Upgrade is to inform the design of future power plants by testing technology and addressing physics issues. In this poster, our engineer Maki Okada presented at the SOFE 2023 conference, the high power test at the gyrotron window conducted as a joint research project with the University of Tsukuba.

2. Masato Tabuchi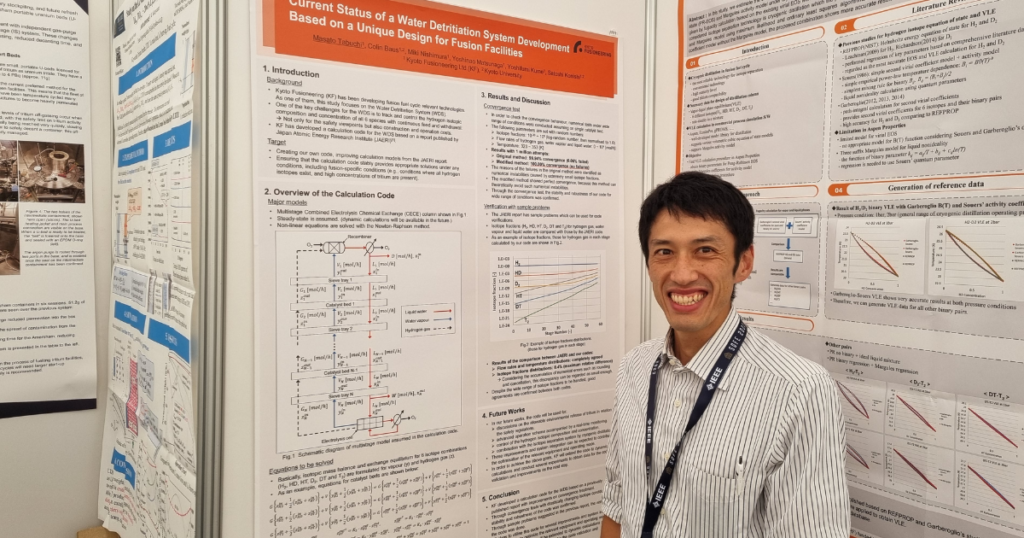 Water Detritiation System is a relevant fusion fuel cycle technology for which one of the key challenges is to track and control tritium.
Kyoto Fusioneering has developed a calculation code for this system, whose results were presented in our poster during the Sofe23 conference.
This code will allow for several improvements and system integration of the fuel cycle to optimise the relevant equipment and operating modes.

3. Gerald Degreef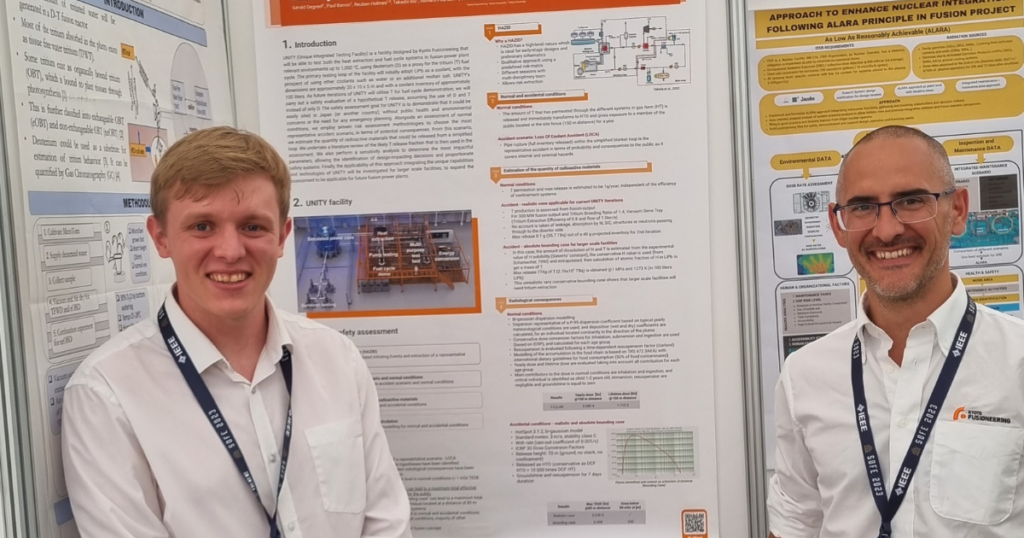 The Kyoto Fusioneering Safety and Regulation team performed a safety assessment of its upcoming facility UNITY. This step is crucial for ensuring safe operation and for the future fusion energy industry. The result of the assessment was presented in a poster during the Sofe23 conference hosted by the UK Atomic Energy Authority at University of Oxford.

4. Richard Pearson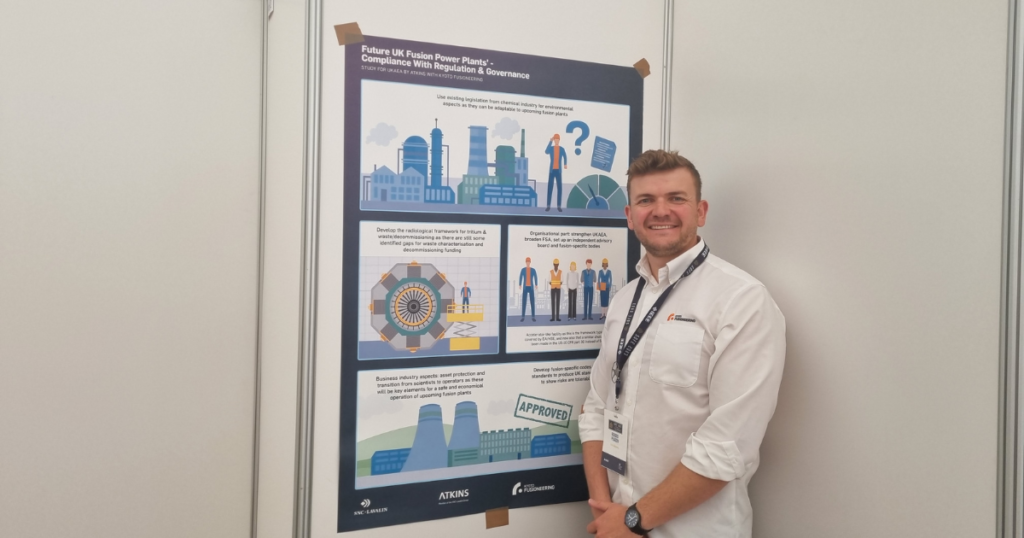 Kyoto Fusioneering together with Atkins presented the result of the study for UKAEA about Future Fusion Power Plants – Compliance with Regulations and Governance.
Read more about how KF provides integrated safety engineering services throughout the entire life-cycle of a fusion power plant here.

Chief Innovator Richard Pearson hosted Satellite Session

Kyoto Fusioneering hosted a Plenary Session on the Global Fusion Industry that was held on Thursday afternoon. The session chaired by Chief Innovator Dr. Richard Pearson aimed to introduce the fundamentals of public-private partnerships and their contemporary role in fusion research. This special session explored in greater detail specific public-private partnership models, including:

Milestone-Based Partnerships
Collaboration & Stimulus-Based Models
Private Funding Initiatives
Cluster & Innovation Concepts – Valerie James, The Fusion Cluster/ UKAEA
Laboratory Spin-In & Non-Profit Organisation Collaborations Anceto

During the session the Development Manager of The Fusion Cluster, Valerie Jamieson was awarded the Global Fusion Partnership Prize by Goraieb Versuchstechnik (GVT GmbH & Co. KG) for her effort in bringing together the members of the Fusion Cluster and her dedication to promote diversity, equity and inclusion within the fusion community.