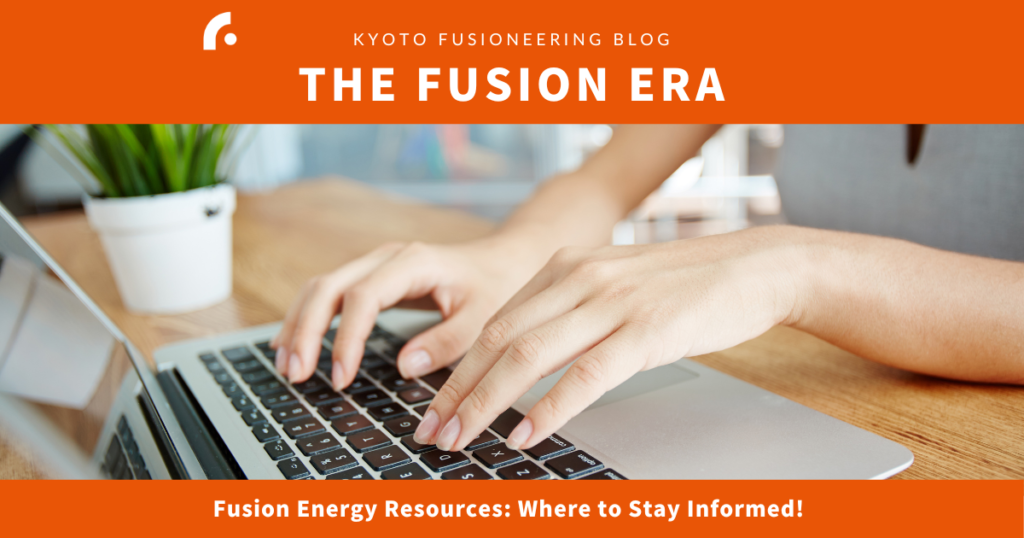 This time in our blog series KFUK will provide a guide to accessing valuable information related to fusion energy from reputable scientific journals to updates from leading fusion research centres and organisations. Whether you're an aspiring scientist, a renewable energy enthusiast, investor, journalist or simply curious about the future of power generation, you will find resources that serve as your go-to destination for all things fusion energy.

International and National Organisations
EUROfusion fusion research bodies from European Union member states and Switzerland signed an agreement to cement European collaboration on fusion research and the European Consortium for the Development of Fusion Energy (EUROfusion) was born. Presently EUROfusion supports and funds fusion research activities on behalf of the European Commission's Euratom programme within 26 EU member states, while Switzerland, Norway and the United Kingdom participate in the activities with their national fusion budgets.
31 research organisations, and behind them about 162 affiliated entities including universities and companies, from 26 European Union member states plus the United Kingdom, Switzerland and Norway are members of the consortium.
European Fusion for Energy(F4E): is the European Union's organisation responsible for Europe's contribution to ITER and the development of fusion energy. Their website provides information about the European fusion program, research activities, and publications.
ITER: ITER is an international collaborative project aiming to build the world's largest tokamak fusion device. Their website offers detailed information about the project, its goals, progress updates, and scientific principles behind fusion energy.
Along with EUROfusion, the European fusion efforts are channelled to ITER through Fusion for Energy. While EUROfusion organises the European fusion research, Fusion for Energy oversees the industrial contributions to ITER. EUROfusion and Fusion for Energy work closely together in the Broader Approach; a collaboration with Japan which comprises amongst others the construction and exploitation of the superconducting tokamak JT-60SA.
Culham Centre for Fusion Energy – is the UK's national laboratory for fusion research and is located in Culham, Oxfordshire. It is operated by the United Kingdom Atomic Energy Authority (UKAEA). The CCFE is one of the leading institutions involved in fusion energy research and plays a significant role in the development of fusion technology.
The Fusion Cluster was established in October 2021. It brings together private fusion companies, the supply chain, investors, government and academia to get to fusion faster. In their website you can find job opportunities within the fusion industry.
The Tech Transfer Office of EUROfusion focuses on the transfer of fusion-related technologies and knowledge from research institutions to industry and other stakeholders.
International Atomic Energy Agency (IAEA): The IAEA is an international organisation that promotes the peaceful use of nuclear energy, including fusion. Their website provides information on fusion energy research, publications, and news updates.
Fusion Industry Association (FIA): The FIA is an international organisation that represents the private sector companies involved in fusion energy development.
Fusion Power Associates(FPA) – is a non-profit, tax-exempt research and educational foundation, providing timely information on the status of fusion development and other applications of plasma science and fusion research.
Washington Climate Tech Alliance – CleanTech Alliance represents over 1000 member organisations spanning seventeen U.S. states and four Canadian provinces. The Alliance provides a variety of educational programs, research, products and services to facilitate the generation and growth of cleantech companies and jobs.
U.S. Fusion Energy – provides the latest news, upcoming events, opportunities and jobs in fusion energy. It was launched by The U.S. Fusion Outreach Team and produced in collaboration with their committee of fusion stakeholders.

Research Institutions and Government Bodies
National Ignition Facility (NIF): NIF is a U.S. Department of Energy facility that focuses on high-energy density physics and fusion research. Their website provides information about their experiments, research results, and the role of laser technology in fusion.
United States Department of Energy (DOE) – Fusion Energy Sciences: The DOE's Fusion Energy Sciences Program supports fusion energy research and development in the United States. Their website offers information about ongoing projects, research facilities, funding opportunities, and publications.
The DOE launched the Milestone-Based Fusion Development Program, which involves significant funding, with the primary goal of assisting private companies in advancing fusion energy technology towards becoming technically and commercially viable.
Under this program, chosen companies will collaborate with prestigious U.S. national laboratories, universities, and other relevant partners. Together, they will work on achieving major technical and commercial milestones crucial for the successful development and design of a fusion pilot plant.
The awards are provided through the DOE Office of Science's Innovation Network for Fusion Energy (INFUSE) program, which was established in 2019 to accelerate fusion energy development through public-private research partnerships.

Journals, News and Insights
Nuclear Fusion Journal: Nuclear Fusion is a leading peer-reviewed journal publishing research on fusion science and technology. The journal's website provides access to articles, special issues, and information about conferences and workshops. Website:
Fusion Energy Insights – can provide reliable and up-to-date information about the current state of fusion research, technological advancements, and the potential future of fusion energy.
FuseNet is the European Fusion Education Network. FUSENET provides various resources for students, researchers, and professionals interested in fusion energy. Their website offers information about fusion research, educational programs, scholarships, internships, and events related to fusion energy.