Selected as one of the 5 Japanese start-up companies for new technologies and innovative business ideas that have the potential for major worldwide impact
Kyoto Fusioneering Ltd is pleased to announce that it was awarded the 'Innovation Showcase' 2022 from the Japan-U.S. Innovation Awards program. The Japan-U.S. Innovation Awards is an initiative of the Silicon Valley-based Japan Society of Northern California and Stanford University US-Asia Technology Management Center to increase the area of cooperation between Japan and North Carolina (USA) and to encourage Japan- US innovation and entrepreneurship.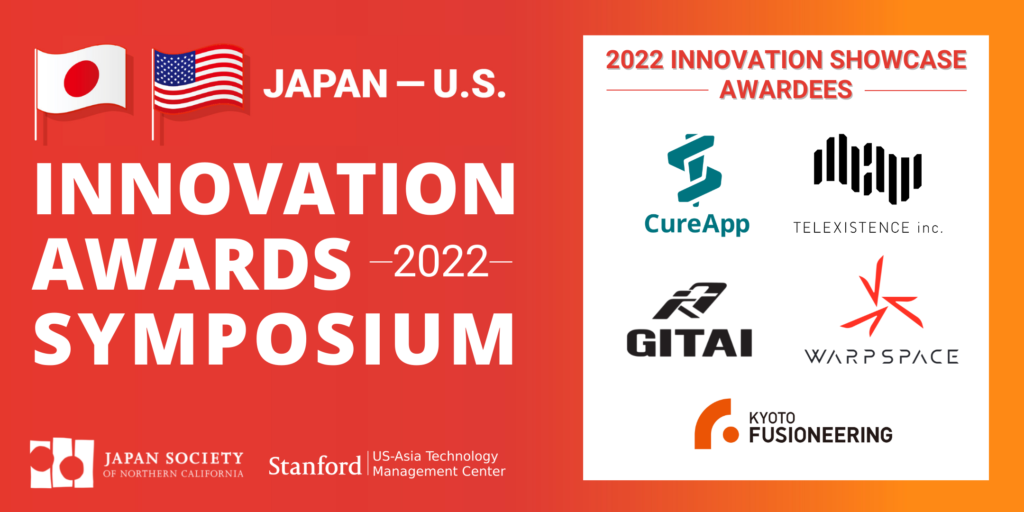 The five showcase companies were selected from a pool of over 100 nominees through stringent review, discussion, and voting by the Innovation Advisory Council of the Awards Program. Each year, a distinguished committee of 54 mentors from venture investors, successful entrepreneurs, company executives, and academic experts in the U.S. and Japan select the five winners that provide a role model for future innovators and spotlight the Japanese creativity & vitality.
The award ceremony will be held on July 14, 2022 on the campus of Stanford University, and Mr. Cal Henderson, co-founder and CTO of Slack Technologies will address the keynote speech. Shutaro Takeda, Co-Founder & Chief Strategist of Kyoto Fusioneering, and Associate Professor of Kyushu University, will represent the company and receive the award. Mr. Takeda will deliver a presentation about the potential of fusion energy and Kyoto Fusioneering technological competitive advantage.
In addition, the Awards Program will present the SunBridge Emerging Leader Award to one Japanese and one U.S. firm that are already beginning to transform a worldwide industry or value chain. Kyoto Fusioneering will continue to work towards its vision of "Solving a global problem to deliver a new energy future for humankind. The ultimate energy solution: fusion.", and will continue to expand awareness of fusion and develop the industry through every valuable opportunity.

【2022 Japan – U.S. Innovation Awards Symposium Overview】
*Only on-site events (no online viewing, etc.)
*For registration and additional information, please refer to the official website (https://www.usjinnovate.org).
■Date, time and place
Thursday, July 14th, 2022 12:00 PM – 5:00 PM
Frances C. Arrillaga Alumni Center Stanford University
326 Galvez Street, Stanford, CA 94305-6105
■Programme of the day
For more information, see the agenda on the official awards website here.
https://www.usjinnovate.org/agenda-2022/
About Kyoto Fusioneering Ltd.
Kyoto Fusioneering is a privately funded technology start-up founded in 2019, with its headquarters in Kyoto, Japan. The company is focused on developing advanced technologies for commercial fusion reactors, including gyrotron systems, tritium fuel cycle technologies, and breeding blankets for tritium production and power generation. Kyoto Fusioneering is developing innovative solutions that are simultaneously high-performance and commercially viable. Supporting both public and private fusion developers around the world, the company is accelerating the realization of fusion as the ultimate energy source for humankind.
The organizers:
Japan Society of Northern California (https://www.usajapan.org/)
Since its founding in 1905, the Japan Society of Northern California (JSNC) has advanced U.S. – Japan mutual understanding in a global context. The Society offers an array of programs and networking opportunities for people and organizations in the Bay Area with a strong interest in Japan. It is the go-to place for U.S. – Japan insights, opportunities, collaboration, and networking. The Society is a dynamic link connecting the world-renowned innovation and entrepreneurial ecosystem of San Francisco/Silicon Valley to a resurgent Japan.

Stanford University US-Asia Technology Management Center (https://asia.stanford.edu/)
The US-Asia Technology Management Center (US-ATMC) is an industry-funded center in Stanford University under the Stanford Global Studies initiative. Established in 1992, the US-ATMC conducts education and research into innovation and emerging business trends in technology-intensive industries. Its courses and public programs provide Stanford students and the Silicon Valley community with knowledge and analytical capabilities that are important to global success in high-tech fields in the 21st century.
Media Contact (English and Japanese language)
E-mail: media@kyotofusioneering.com
HP: https://kyotofusioneering.com/
Twitter: https://twitter.com/kyotofusioneer
LinkeIn: https://www.linkedin.com/company/kyoto-fusioneering/