Kyoto Fusioneering (KF) secured the Grand Prize at the prestigious City-Tech Tokyo event, receiving 10 Million Yen in recognition of their sustainable society initiatives.

The City-Tech Challenge, an international pitch contest, showcases groundbreaking "City-Tech" solutions for a sustainable future. From 338 applicants across 35 countries, only seven exceptional finalists pitched live at City Tech Tokyo on February 28, 2023. KF's Vice President, Kiyoshi Seko, presented cutting-edge fusion technology to an esteemed panel of global judges.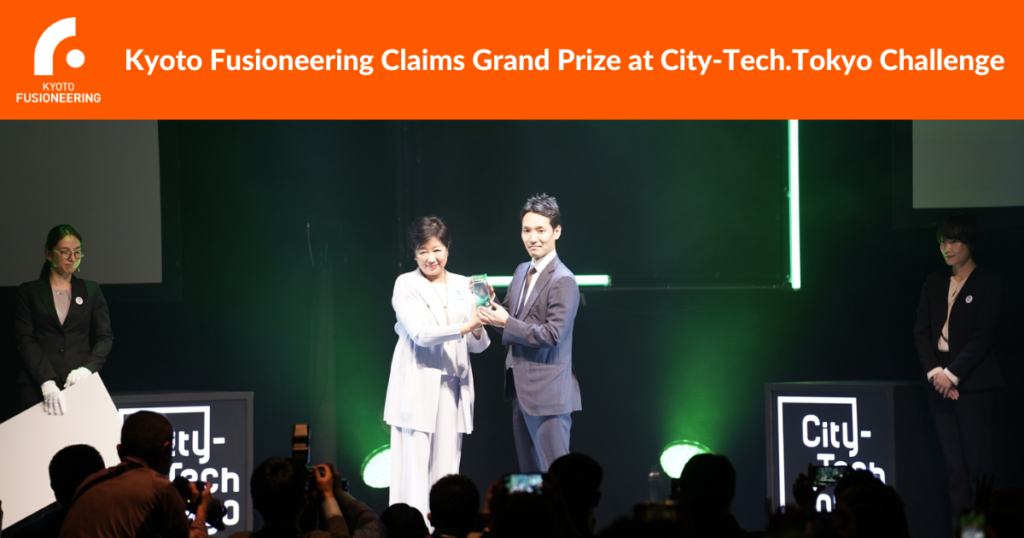 The inaugural "City-Tech.Tokyo" event, backed by the Global Event 2023 Executive Committee and the Tokyo Metropolitan Government, aimed to foster a sustainable society through open innovation. The event centered on strengthening connections among participants, catalyzing collaborative opportunities, and spurring corporate investments across infrastructure, environment, lifestyle, and culture sectors.
Kyoto Fusioneering remains unwavering in its mission to address the global energy crisis and deliver a new energy future through fusion. The company is committed to increasing public awareness of fusion technology and propelling industry growth via scientific and technological collaborations.
Chairman of Global Event 2023 Executive Committee, Manabu Miyasaka, commented: "Congratulations for winning the first prize of the pitch contest "City Tech Challenge" at the 1st City-Tech.Tokyo. I was very impressed by your passion and enthusiasm during the presentation, as well as the appealing power to solve urban issues and the great competitive advantage, during the contest, Your company's vision of "solving global issues with the ultimate energy solution 'nuclear fusion' and bring about a new future for mankind" is strongly consistent with City-Tech.Tokyo's vision of "using cutting-edge technology and diverse ideas, to create 'sustainable new values' that help to overcome the world's common urban issues". I look forward to your continued success and contribution to the world."
A Kyoto Fusioneering representative expressed gratitude for the award, stating, "This honor not only elevates our fusion energy endeavors but also reinforces our commitment to shaping a sustainable society. Japan is poised to spearhead the fusion energy revolution, propelling global decarbonization. United in purpose, we will cultivate a resilient and sustainable future, beginning in Tokyo and expanding worldwide."
About Kyoto Fusioneering
Established in 2019, Kyoto Fusioneering is a privately-funded technology startup with facilities in Tokyo, Kyoto, Reading (UK), and Seattle (USA). The company specializes in developing state-of-the-art technologies for commercial fusion reactors, including gyrotron systems, tritium fuel cycle technologies, and breeding blankets for tritium production and power generation. Kyoto Fusioneering collaborates with public and private fusion developers globally, striving to establish fusion as the ultimate energy source for humanity.
Kyoto Fusioneering Public Relations
Tokyo office: 6F Otemachi Building, 1-6-1 Otemachi, Chiyoda-ku, Tokyo 100-0004, Japan
E-mail: media@kyotofusioneering.com
Follow Kyoto Fusioneering
Twitter: https://twitter.com/kyotofusioneer
LinkedIn: https://am.linkedin.com/company/kyoto-fusioneering/
Facebook: https://www.facebook.com/KyotoFusioneering
YouTube: https://www.youtube.com/channel/UCCKqx4Iq4oMFnzGtfkdY6z