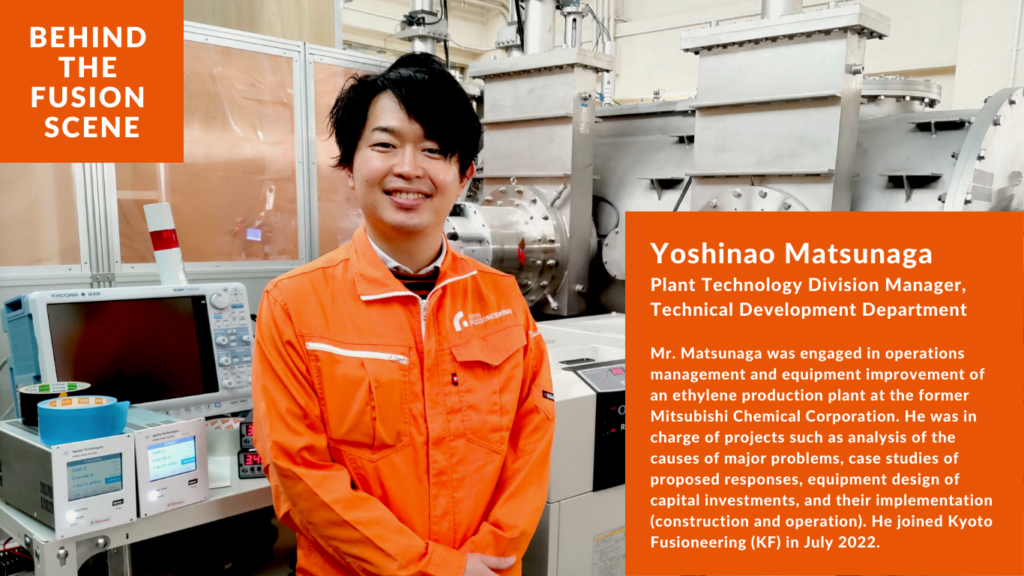 Yoshinao Matsunaga 
Plant Technology Division Manager, Technical Development Department
Mr. Matsunaga was engaged in operations management and equipment improvement of an ethylene production plant at the former Mitsubishi Chemical Corporation. He was in charge of projects such as analysis of the causes of major problems, case studies of proposed responses, equipment design of capital investments, and their implementation (construction and operation). He joined Kyoto Fusioneering (KF) in July 2022.
What interested you about this industry?
At university, I studied chemical engineering, which is the study examining the most appropriate processes for making chemical products. It is also a field for the design and operation of industrial production, particularly in oil refineries. After graduation, I applied for a job in the petrochemical sector of an integrated chemical company, where I could make use of what I had learnt.
During my first five years with the company, I was struggling to deal with various situations flexibly on the job site. In order to optimise the process and work towards making efficient, quality products, it was essential for manufacturing staff to acquire a wide range of knowledge and experience, not only in chemical engineering but also in understanding the various elements of the facilities, control systems and legislation.
In the chemical plant, various problems occurred due to the changing conditions caused by the materials, temperature, catalyst degradation over time, contamination, and so on, so it also took time for me to adapt to the working environment for the plant.
As I gradually gained basic knowledge and experience, I was able to use what I had learnt in chemical engineering to propose process improvements in operations and equipment, considering costs and risks at the same time.
Also, since I was involved in a plant that had been in operation for nearly 50 years, I was not only proposing improvements, but also tackling the issue of how to achieve high capacity and long-term operation while maintaining the safety and stability of the plant. I found it challenging, but also very rewarding, to pursue the best possible operation at the moment amidst a variety of disturbances.
What made you join Kyoto Fusioneering (KF)?
Having overseen the same ethylene production plant consistently for nearly 10 years, I felt that I had gained comprehensive experience of the process engineering that could be done at this plant, including process improvement, equipment management, capital investment and legal compliance. So, for my own career development, I started to think that I may want to be involved in the areas I had never worked on before.
The company expected me to further develop my expertise in the same sector, but as I took time to think about how I want to contribute to the society through the acquired skills, I began to consider a wide range of options beyond the petrochemical industry.
That was just when my friend introduced me to KF. Until that time, the fusion industry had never come to my mind, but I immediately thought, "It sounds really interesting to be able to think about processes and equipment that no one has ever built before". At the same time, I intuitively felt that it was a great match for what I wanted to do and a place to use the skills I had developed in my career.
Concurrently , there are calls for the replacement of fossil fuels and CO2 fixation in the petrochemical industry in Japan, and I used to feel that the issue of electricity was the final bottleneck preventing this. The idea that if I could utilise the process engineering skills in nuclear fusion, I would be able to contribute to Japanese industry, including petrochemicals, which had helped me to strengthen my career, and encouraged me to join KF.
What projects are you currently working on at KF?
Currently, I am mainly involved in two projects.
One is the UNITY project, in which I examine processes of plant design. Specifically, I am responsible for process studies of the heat exchangers required to extract heat from the fusion reactor and the turbine power generation system that utilises the heat, as well as the operation studies of the associated instrumentation, control systems, and so on. I find it very rewarding because I can directly use my previous knowledge in plant heat recovery.
Another is the development of fuel cycle components, including the development of extraction pumps and separation facilities of hydrogen isotopes. This project is more in the field of technology development, and I find it a very challenging project in terms of both R&D and marketing. To my knowledge, the technology for the entire fuel cycle process flow has not been established yet globally, so if we will develop components and produce optimal solutions in this area in the future, KF could become an indispensable player in the fusion industry.
What did you actually feel when you joined KF?
When joining KF I was quite sure that I would be able to make use of the knowledge and skills I had acquired before, I was honestly relieved when I could actually feel that my skills can also fit well here, especially because I had been working in the same department of my previous employer for nearly 10 years.
What has been unexpectedly difficult is the fact that I am the only chemical engineering specialist on site in the company at the moment. I used to have senior colleagues who were experienced in the same field, and I could consult and discuss things with them when I wasn't sure, but now I am taking charge as a chemical engineering expert. So I keep studying by books and papers a lot in addition to my previous experience.
Another unexpected and interesting aspect is that even in the technology sector, we can consider the business context of our work, for example, considering the supply chain and marketing. Although the core of my work is still in the field of technology, I really appreciate the opportunity to think about whether what I am trying to create will benefit society and how we can monetise it, and I feel this is a great aspect of the venture.
What would you like to achieve with KF?
I would like to build a reputation amongst prominent process engineers for fusion plants
Research on individual components has been carried out in many countries around the world, but there is still no example of a detailed process for realising a fusion plant that has been proven. I believe that KF is a pioneer in this field, through the construction of UNITY.
I am very proud to work at KF, both in terms of being able to use my skills as a process engineer to create " the thing no one has ever achieved before", and in terms of being able to contribute to solving global issues by working on nuclear fusion.
■For further information visit our recruitment page.
■Previous Behind the Fusion Scene