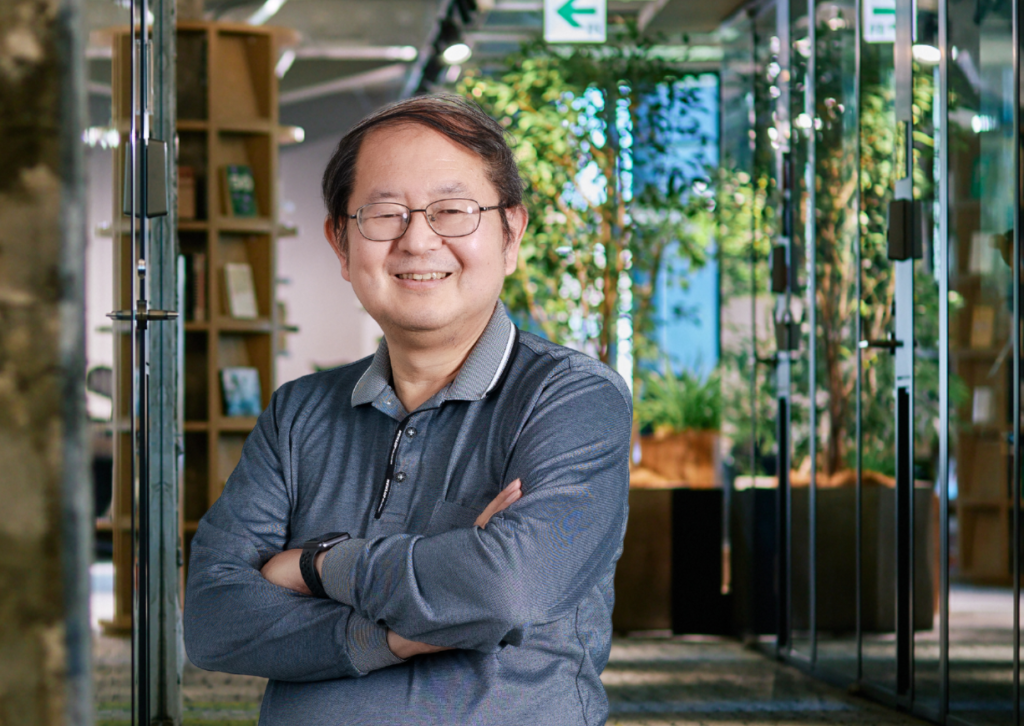 Yosuke Hirata, Head of Electro Magnetic Development 
Mr. Hirata started his R&D career at Toshiba Corporation by developing high-power millimetre-wave gyrotrons.  Afterwards, he performed  various simulations and developed equipment for nuclear power plants. He was a visiting scientist at the University of California, Davis (UC Davis). Later, he was involved in the IFMIF project at the National Institutes for Quantum Science and Technology (QST), developing the central control system. Mr. Hirata joined Kyoto Fusioneering in Jan, 2021. Ph.D from Kyoto University. 
What interested you about this industry?
I was inspired by reading the book "Challenge to Fusion' by Dr. Shoichi Yoshikawa when I was in high school. I believe that many people of my generation who are involved in nuclear fusion may say that this was the trigger for their interest in the field.
I thought to myself, "Building a sun on Earth sounds amazing…it would be interesting", and so I studied plasma physics and nuclear engineering at university. I followed a teacher who was running a small tokamak experiment at the Yoshida campus, and wrote my thesis on the temperature measurement of plasma ions using neutral particles.
Later, when I was not sure whether to go for a PhD programme, I thought about writing down all of my dreams and finding out what I wanted to do and desired to have. Then I realised that it would be fulfilling for me to reskill and continuously build my skills in a workplace that offers a good work life balance.I joined a company as a master course graduate, and after introductory training I was assigned to the gyrotron development department, where I worked on gyrotrons for almost ten years. My first customers and my bosses at this time are the people I am working with now, including Prof. Sakamoto*1, the Executive Officer of Kyoto Fusioneering, so for me it feels like a reunion. It's like going back to those days. I was involved in the development of gyrotron for about the first 10 years of its history, when it was the early phase of ITER gyrotron development, and the issues that were raised at that time have now been resolved, thanks in part to the research results of Prof. Sakamoto and others. I am deeply impressed by the reunion that I am now involved again in what Prof. Sakamoto and his team.
I think it is fulfilling for scientists in large companies to see the devices they have been involved in developing transferred from the laboratory to the factory and become useful commercial products. As a product developer, it is amazing to be involved in the commercial activity and witness the entire lifecycle of the gyrotron, even though in a different company.
Is there any experience particularly memorable for you?
I remember a project I experienced in my eighth year with the company, a millimetre wave transmission test using waveguides on a helical device. I was on site representing the development department, together with people from the gyrotron and power supply manufacturing departments, and this was the first time I had been involved in delivery testing of equipment on such a large scale.
As a member of the development department, I was one of those responsible when things went wrong. During a gyrotron test, the microwaves were inducing discharges in the middle of the transmission line and could not be transmitted properly, making it difficult to achieve the results expected by the customer. We tried a number of different approaches to rectify the problem, but despite exhausting all of our ideas, we still did not get the results we expected.
Then one morning, after about six months of working Monday to Friday from early morning until late, a professor who had been involved in the experiment quietly said, "I think something strange is going on over there". The waveguides were designed to connect with straight waveguides and/or bends at right angles to send microwaves to the destination. The professor wondered if the shape of the microwaves was more disrupted and scattered in an invisibly small amount than we thought when the microwaves were reflected at those junctions (bends).
So, in order to remove the invisibly scattered microwaves that could have caused the discharges when reflecting, teflon tubes with water flowing inside were mounted in the junctions to absorb the scattered microwaves. Then, the microwaves were able to pass through safely.
After several tests, we made coordination with the company in the direction of improving all the junctions to be equipped with teflon tubes for absorbing unwanted wave portions, and in the end, we were able to transmit microwaves over 100 m without any problems. After several months of tough and difficult times, the problem was solved, and I sat down on the spot afterwards released from long pressure.
What I remember particularly vividly is that night. The professor I had been working with for a long time took me out for a drink, and he said to me, "You really helped me this time, thank you".
It really meant a lot to me that he was grateful. I also felt that I had been recognised as a member of the same team, transcending the relationship between customer and manufacturer.
After this experience, I feel that there is no guaranteed outcome when developing experimental equipment. The real test of equipment is when it is put into operation and we should continue to work on it until the desired results are achieved. At the same time, it was a learning experience for me in terms of relationship management, because even though we were a customer and a supplier, we were ultimately able to have constructive discussions toward the same goal.
What projects are you currently working on at KF?
I am in charge of the gyrotron and the entire range of peripheral equipment, including power supplies and measuring devices. At the same time, I am working with younger members of the team to develop a design code to accelerate the company's ability to develop technology and licences that we need to acquire in the future.
For a specific example, in a gyrotron, millimetre-wave beams extracted from the output window are input into a waveguide using a device called a MOU (Matching Optics Unit), which transmits the beams to the fusion reactor. Inside the MOU is a special mirror to put millimetre waves into the waveguide with high efficiency, and I am maintaining the design code for this mirror. I am also working on the orbit calculation code for the electron beam, which is necessary to generate a high-quality electron beam to improve gyrotron efficiency and to refurbish the electron beam efficiently after millimetre-wave oscillation. Computing capabilities have improved significantly in recent years, so we can do calculations with a degree of precision that was unimaginable back then, and I enjoy doing it.
In addition, I am involved in a variety of other projects not related to Gyrotron, such as the drafting and planning of quality assurance documents and the creation of rules for export and information security.
Do you feel that your work at KF has changed you?
After less than a year at the start-up, I am a little surprised to find that I can make better use of what I have seen in the big companies than I expected.
For example, areas such as quality assurance and exports are not my area of expertise, as they are tasks that have been carried out by other specialised departments in the past or that I have been in charge of on an interim basis. However, because the organisation is in the process of starting up, I can draft it as a necessary organisational function and be in charge of creating a 0 to 0.1 template.
Of course, quality assurance and export are important functions, so they have been taken over by people with expertise within Kyoto Fusioneering, but when building an organisation from scratch, I benefited from the experience gained in mature organisations. This was something I had not seen in my previous work, so it was an eye-opening experience to see that I could utilise this.
How do you see KF changing over the next five years?
Currently, the business is taking shape at a faster pace than we had imagined, thanks to the combined efforts of our dynamic members, and I feel that we are in a phase of high mobility as a company.
However, as organisations grow in the future, they will not only need visionary leadership, but also skilled workers. This is especially true when manufacturing starts and steady, repeatable work is needed. In order to optimise the capabilities of both visionary leader-oriented employees and skilled workers, it will be necessary to have a diversity of mindsets within the organisation.
At such times, it is important to learn from existing large companies. Already mature companies of course have their own challenges, but a company that has been in existence for 100 years, has a sophisticated system as a result of 100 years of trial and error. It is important to strike a balance between incorporating the old and nurturing new ideas, but I personally think it is more meaningful to use the lessons of the past than to create something from scratch.
If you try to emulate a particular company completely, you will never get any further than that company, but different members will produce different things, so I would like to see what the global engineering companies of the 21st century will look like in the future.
What would you like to achieve with KF?
Over the next five years, we would like to ensure that knowledge is disseminated to the new generation. Were someone to leave the organisation unexpectedly, the remaining members would be able to continue, but I think it would be better to spread the knowledge and understanding as broadly as possible amongst the members of the organisation to keep that knowledge alive.
I also feel that we need to think about how we can pass on the part of creativity to the younger generation, so that what we have developed in our generation is left behind and not just a reproduction of what we have made so far.
*Related Press Release/Keishi Sakamoto, Executive Officer of Kyoto Fusioneering, receives the John R. Pierce Award from the Institute of Electrical and Electronics Engineers (IEEE), USA.
*Click here for an overview of our gyrotrons.
■For further information visit our recruitment page.
■Previous Leadership Thoughts can be found here.