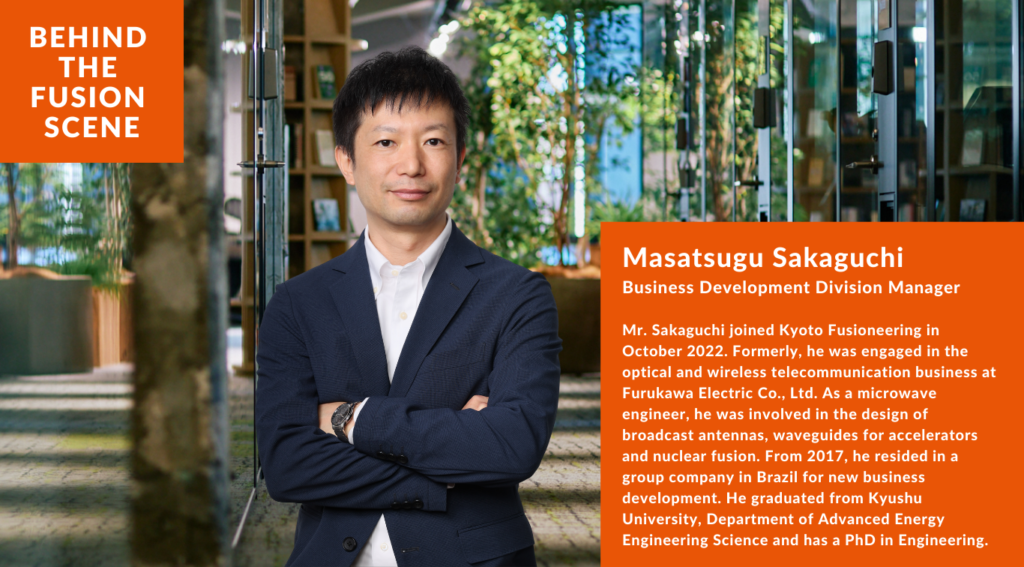 Masatsugu Sakaguchi, Business Development Division Manager
Mr. Sakaguchi joined Kyoto Fusioneering in October 2022. Formerly, he was engaged in the optical and wireless telecommunication business at Furukawa Electric Co., Ltd. As a microwave engineer, he was involved in the design of broadcast antennas, waveguides for accelerators and nuclear fusion. From 2017, he resided in a group company in Brazil for new business development. He graduated from Kyushu University, Department of Advanced Energy Engineering Science and has a PhD in Engineering.
Is there any experience particularly memorable for you in your previous career?
I previously worked in broadcast antenna and waveguide design, as well as new business development and management at a company dealing with optical and wireless telecommunication business.
For the first few years after joining the company, I was involved in the development of antennas in the broadcasting field, and then for about seven years I was involved in the development of waveguides for research institutions working on accelerators and nuclear fusion. I was involved in the waveguide design of the QUEST spherical tokamak at Kyushu University. At that time, I was seeking to further develop my expertise in this field, and with encouragement from my company and university professors, I enrolled as a working student in the Department of Advanced Energy Engineering Science at Kyushu university where I completed my PhD.
Time was extremely constrained as I was simultaneously developing products as an engineer in a company and also carrying out research on corrugated waveguides (millimetre and microwave waveguides used in fusion plasma) as a student, but I felt that this experience to complete both, the project and the research, was very valuable for my professional development.
Afterwards, I was involved in new business development targeting industrial applications of microwaves, and from 2017 worked as an expat at a group company in Brazil for five years. This was my first experience of being involved in full-fledged management of an organisation. It was truly challenging to manage an organisation with a different culture, alongside managing a technology I had never handled before. In addition, especially at the beginning of my stay, it was very hard for me to be in a new environment where there was very little I could do on my own, because until then I had been able to solve many of the tasks by myself as an engineer. However, coming to this environment also brought me new insights. I started to think, "If I can make the members feel good about working, then the project will move forward."
Until then, I was a little bit wrapped up in making use of my previous experience and doing things on my own, but once I realised that there is a limit to what I can do by myself, I started to look at creating an environment where team members can work spontaneously and collaborate with other teams.It was thanks to my experience in organisational management in that new environment that I came to these thoughts.
There were difficult times, but I felt that the kindness and support of my colleagues and supervisors in Brazil, whom I truly respect, was very important to me. Also, the culture in Brazil that values diversity and an environment that allows people to work in a natural way while valuing work-life had a great impact on me. It was a learning experience that has led to the way I work and think now.
What made you join Kyoto Fusioneering (KF)?
After returning from Brazil, I was assigned to a research institute responsible for the development of new focus areas, but as I was starting to feel that project management of new projects, which can be carried out with a business mindset, suited me, I decided to seek broader opportunities beyond engineering.
In addition, when I was working in Brazil, I felt that both management and on-site members were naturally looking to expand business globally, but after returning to Japan, I felt that the interest in considering overseas business opportunities was not sufficiently prevalent in the Japanese manufacturing industry.
I also considered new business development positions at large enterprises as an option that might have the global perspective I sought. However, I got the impression that many of them were seed businesses for the future that were separate from the company's core business, which I expected would make it difficult to play a leading role in those companies.
It was at this time that I came across KF. KF was very attractive to me because it was offering positions in its core business areas, where I could make use of my experience in both new business development and development engineering. At the same time, I felt that the company had a unique position in the fusion industry and a winning business model.
More than anything, I felt that KF could contribute to raising the level of manufacturing in Japan as a whole, involving suppliers and partners both in Japan and overseas, and accelerate the globalisation of the Japanese manufacturing industry.
What projects are you currently working on at KF?
I mainly work on Gyrotron-related projects and am in charge of project management and development process reviews. Specifically, I manage tasks for development projects, create mechanisms for managing people and operations, supply chain management, and signing contracts.
In terms of working styles, I feel that I have benefited from my experience in business management when I was working in Brazil. I also feel that being involved in nuclear fusion, both in the design development and in academia, has been an advantage for me in managing engineering at KF.
At the current stage, KF is still an organisation with a strong R&D focus, but I feel that establishing a system that can deliver products of high quality and stability will be one of the most important enablers for manufacturing in the future. In cooperation with the technical development team and the corporate team, we are actively improving the development process.
How do you see KF changing over the next five years?
I think we currently have the wind at our back, both as a company and as an industry. I personally believe that in five years, when KF is more recognised as a company that does real business, its true value will be tested.
For example, in order to bring a product to the market, it is necessary to establish a product lifecycle management system that includes not only the R&D of the product itself, but also design and manufacturing management and product information management with a view to post-sales quality assurance.
We are at the stage of creating such a system and structure from scratch, so it is essential for us to respect the existing structures that other companies have built up over the years, while selecting and choosing what is best for us and incorporating it into our own system, creating a system that will enable us to provide what is taken for granted as a company engaged in manufacturing.
What would you like to achieve with KF?
I want to contribute to the revitalisation of the Japanese manufacturing industry through the industrialisation of nuclear fusion.
I believe that KF's proactive global activities, involving Japanese manufacturers, will lead to the Japanese manufacturing industry being revitalised once again. Therefore, in addition to building a system and structure that will enable KF to responsibly deliver its products to the world, I would also like to make efforts to build a cooperative system with suppliers and partners.
I myself also want to enjoy the change in this company. Unlike when I was working for a manufacturer, there are people from different backgrounds, such as business firms and research institutes, and I feel every day that it is very stimulating to work in this environment. On the other hand, there are many different industry standards, so I sometimes feel that it is difficult to reconcile the differences in the way we work.
As the company grows in the future, the members will become more diverse and we will need to take even better care of the way we work. I also would like to remember to be mindful of the comfort and ease of working of our members every day.