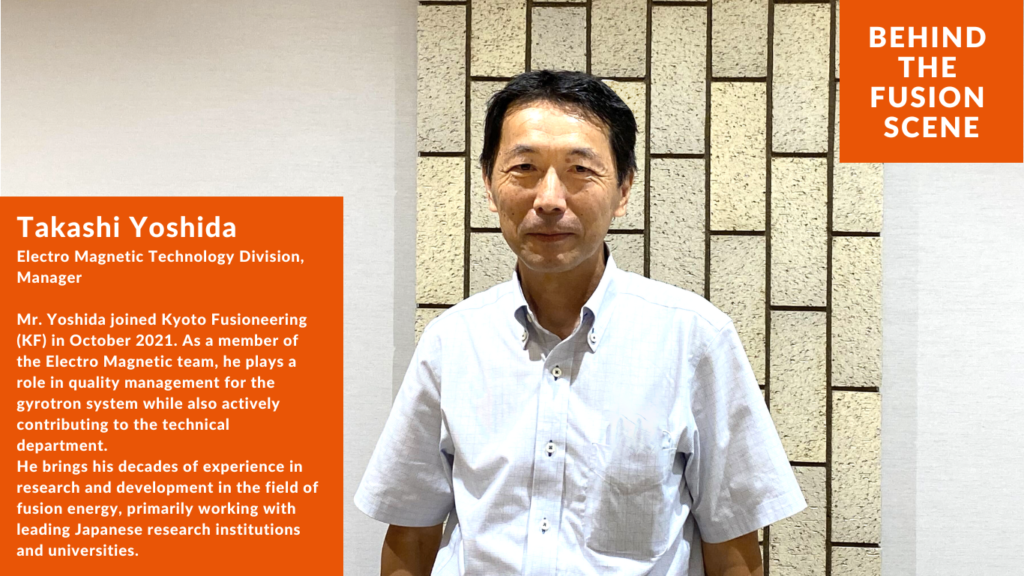 In a nutshell:
After embarking on a career as a mechanical engineer for a machinery manufacturing company, Mr. Yoshida ventured into the world of fusion energy through his work related on mirror-type devices at the University of Tsukuba. Subsequently, he gained a wealth of experience by participating in international projects at one of Japan's leading fusion energy research institutions. In 2021, driven by a burning desire to continue innovating in the fusion energy industry, he joined Kyoto Fusioneering (KF). Today, as a member of the Electro Magnetic team, he constantly prioritises quality control and supports KF's expansion and growth with his rich experience and commitment to passing on knowledge to the next generation.

---
Could you shed some light on your professional journey before joining KF?
When I first joined a machinery manufacturing company as a new graduate, it was a period when state-of-the-art nuclear power plants were under construction, while simultaneously, older plants required maintenance. I learnt the fundamentals of manufacturing technology, including novel techniques that had never been utilised before. My days were spent in the factory, frequently inundated with maintenance responsibilities.
Approximately two years later, my boss presented me with the opportunity to work on the Gamma 10/PDX (G10) plasma confinement device project at the University of Tsukuba. This marked the beginning of my career in fusion energy. In this role, a profound understanding of physics was imperative. Initially unfamiliar with the subject, I devoted my weekends to tireless study sessions in libraries and bookstores. Without a baseline level of knowledge, I couldn't even formulate questions, so I was resolute in my commitment to learning.
In the 1980s, I primarily worked on the development and production testing of nuclear magnetic resonance (NMR) devices that utilised high magnetic fields with abundant liquid helium. In the 1990s, superconducting technology evolved into an era of "high magnetic fields, super-sizing, and forced cooling" and plasma confinement projects using superconducting coils took central stage. During this period, I started to work in the DPC-TJ program of the Japan Atomic Energy Agency, the precursor to the National Institutes for Quantum Science and Technology (QST). This project aimed to develop high-current-density coils for fusion reactors in the first engineering tests and beyond. Being part of a collaborative project with national research institutions was a rewarding milestone in my career.
Furthermore, during that period, I had the miraculous reunion with colleagues I had worked late into the night during the testing phase.
The moment we reconnected at KF was deeply touching, considering it had been nearly 30 years since our last encounter.
Since then, I´ve had a multitude of experiences. At the National Institute for Fusion Science (NIFS), I assumed various responsibilities, such as producing the primary coils of the Large Helical Device (LHD), the manufacturing, winding, stacking, and coil cooling of Cable-in-Conduit Conductors (CICCs), as well as conducting excitation tests to measure insulation strength.
During my involvement in the construction of the largest spherical tokamak in Asia, the QUEST at Kyushu University, my responsibilities included the installation of high-temperature walls on the inner wall of the vacuum vessel and the installation of cooling water circuits, followed by pressure and vacuum tests.
Additionally, I actively participated in the JT-60SA project, a joint effort between Japan and Europe to achieve fusion energy. The project involved sliding giant D-shaped toroidal coils into the donut-shaped vacuum vessel without making contact with other components, which was a monumental task that required extreme precision and coordination.
As I reflect on my career, it strikes me that I've encountered challenges virtually every day, and I've managed to overcome them through sheer determination. There were times when I contemplated giving up, but now I believe that overcoming challenges is an integral part of life. In recent years, I've even found satisfaction in breaking through these barriers.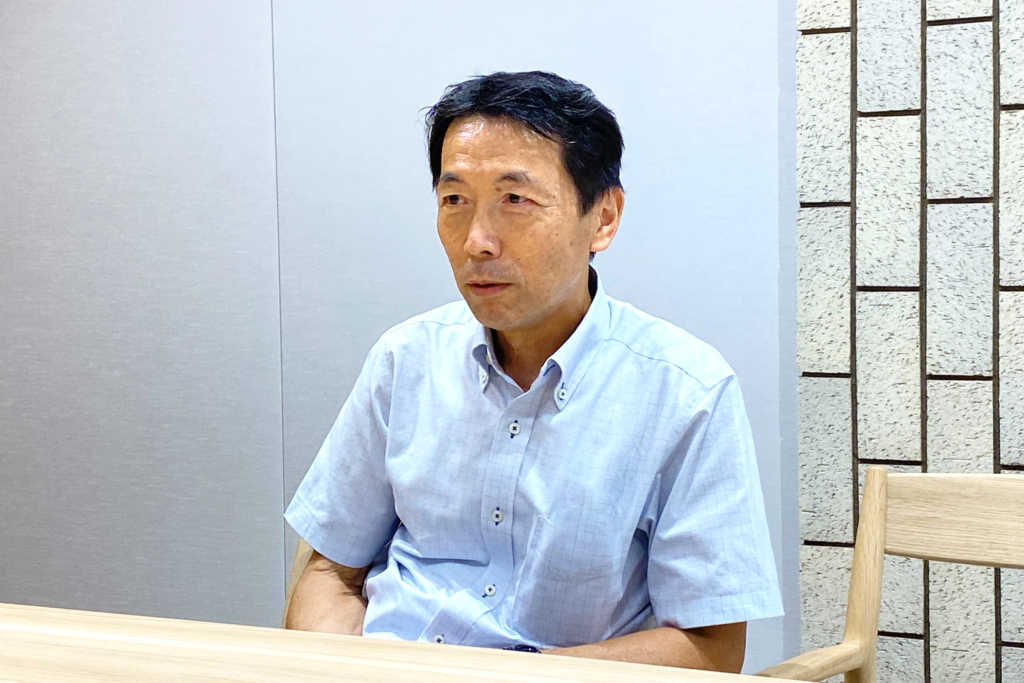 What led you to join KF, given your extensive experience?
I had dedicated over 30 years of my life to the pursuit of realising fusion energy. When I retired from my previous job, I pondered, "Is this the conclusion of my journey in fusion energy?" I felt disheartened. However, fate intervened, and I came across KF, a startup in the field. At that moment, I felt a surge of excitement, thinking, "I can still continue challenging myself in the fusion energy industry, and I might even be able to pass on my knowledge to the next generation!" I immediately applied to KF and passionately expressed this sentiment during the interview. When I finally received the job offer from KF, I was genuinely overjoyed.
What is your role at KF?
In my role as a member of the technology team responsible for the gyrotron system used for plasma heating, I approach my daily tasks with a focus on product quality, and always keeping in mind that this system is the crystallisation of Japanese manufacturing technology. We aim to research and develop this system, ultimately delivering a product that is "loved by everyone." To achieve this, I mustn't overlook a single error, scrutinising everything from various angles.
Furthermore, as a manager, I'm actively engaged in project and team management. Given that multiple suppliers play a pivotal role in the manufacturing of the gyrotron system, it is essential to build and maintain cooperative relationships with them. In addition to managing quality and costs, I work to ensure smooth coordination with various parties and strive to share progress with the entire team.
Additionally, the gyrotron team consists of individuals with decades of experience in fusion energy, so I make a conscious effort to tap into the extensive knowledge that each team member brings to the group, aiming to enhance the overall team performance.
This can present its challenges, particularly as each person possesses a vast amount of knowledge. Nevertheless, my experience as a coach and a supervisor for a volleyball team during my student days appears to be advantageous in terms of managing the team effectively.
Could you share your thoughts on work culture in KF?
Firstly, I believe it is significant to be proud of what you do. Every aspect of fusion energy-related technology is essential. Without the contribution of each component, plasma cannot be generated, superconductivity cannot be maintained, and electron beams won't function. Moreover, the products we create are unique. By persevering and refusing to compromise along the way, we have the capacity to craft an unparalleled product on a global scale.
Secondly, transparency is crucial when working within an organisation. For instance, when someone makes a mistake at work, no matter how small, I believe it's desirable to share it with the team. While you want to handle it privately out of concern for the individual, I fear that it could lead to significant losses for the company. Sharing, discussing, and considering mistakes as a team can lead to better solutions. I believe that building this relationship, not only within the team but throughout the entire company, will be a significant asset for KF in the future.
Lastly, I value listening to diverse opinions. In organisational work, sometimes we need to look at things from a different perspective. As a result, conflicting opinions within the team can arise when making decisions for a project. However, decisions made through this process, with input from various angles, tend to be balanced and free from bias. Unless everyone fully understands this, even minor oversights could someday turn into serious issues. Therefore, I believe that it's essential to listen carefully to even opposing opinions and minority views.
These three principles strike to me as pivotal keywords for KF´s current situation. We are mainly hiring experienced individuals. When the organisation is small, the company can grow with only individual work. However, in this phase where teamwork is becoming increasingly important, it's crucial to maintain open communication rather than a closed one. We should also welcome not only opinions that align with our own but also those that differ, then be proud of your work. I keep these values in mind and aim to share them with my team members, as well as embody them within the company.