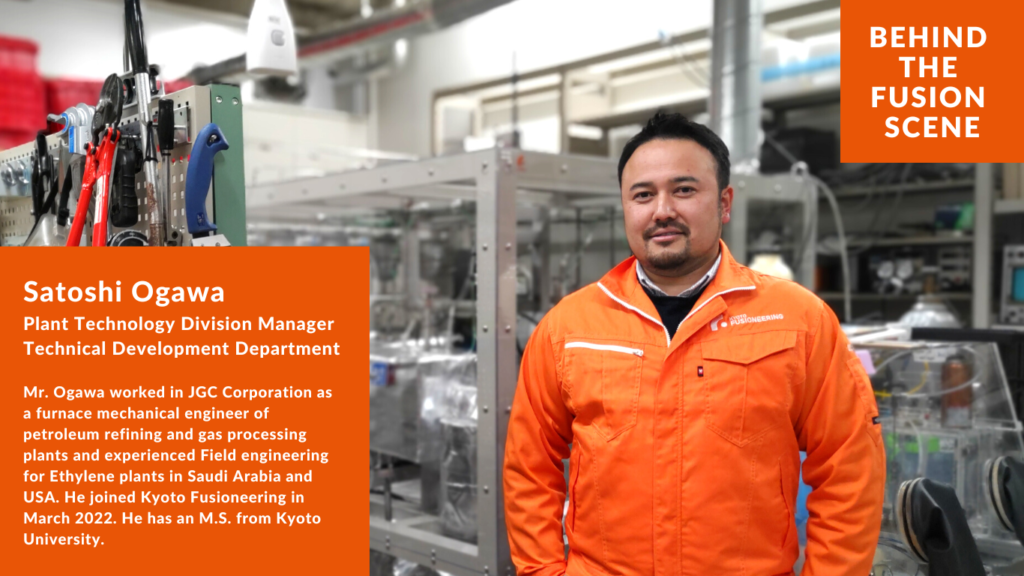 Satoshi Ogawa
Plant Technology Division Manager, Technical Development Department
Mr. Ogawa worked in JGC Corporation as a furnace mechanical engineer of petroleum refining and gas processing plants and experienced Field engineering for Ethylene plants in Saudi Arabia and USA. He joined Kyoto Fusioneering in March 2022. He has an M.S. from Kyoto University.
What interested you about this industry?
I worked on small fusion reactors as a neutron source in postgraduate school. The research was on using a neutron source to search for mines by irradiating the ground with neutrons produced by nuclear fusion. At that time, there were not as many fusion-related jobs as there are now, so I was considering various options for my career. That was when I discovered an option to work in the plant engineering industry through a cooperative company in my laboratory.
Until then, I didn't know much about the term plant engineering itself, but when I learned about it, I thought, "Building such a large plant on the ground where nothing existed sounds really interesting and cool." Attracted by the possibility that I could build something large that could remain on the world map, I decided to join a plant engineering company.
Afterwards, I worked mainly on cracking furnaces for ethylene plants and was involved in several large projects. One of the most memorable projects was when I was working as an expat in Houston, USA.
In that project, as the leader of the combustion equipment department, I could experience the whole process from submission of quotations to the customer, to design, procurement of equipment, and actual construction and commissioning on site. Even to this day, I feel that my experience of being in charge of the whole process from quotation to plant handover is one of my great strengths.
It was a hard project right up to the last minute as we also had a large hurricane just before the delivery, but when I looked up in front of the completed cracking furnaces, as high as 50 m and 150 m wide, I felt such a sense of accomplishment.
What made you join KF?
I had previously been in charge of cracking furnaces, which are the heart of an ethylene plant, but after returning from my stint in Houston, opportunities for ethylene projects, including cracking furnaces, were reduced and I started to think about what to do next.
While I was considering internal open calls for new projects, I remembered that early in my career I had made an internal proposal related to the fusion business. At that time the proposal itself was not taken forward within the company since it was recognized too early to start doing business in fusion, but the memory made me search about the current situation of the fusion industry, and I found Kyoto Fusioneering.
Since my graduate school laboratory was close to the laboratory of Dr. Satoshi Konishi, co-founder of Kyoto Fusioneering, I was surprised that Dr. Konishi created a fusion company and that the world of fusion is now on the move.
At that point, I had not imagined that I would be working for Kyoto Fusioneering, but when the company appeared again as a job opportunity during my research into career change, I applied without hesitation.
What projects are you currently working on at KF?
In the UNITY* project, we are working on integrating the equipment to extract the heat from the fusion reactor into a single plant.
Specifically, in order to transport the heat produced by the fusion reaction to the equipment for power generation, we research and develop a variety of equipment, such as blankets to extract the heat, heat exchangers and liquid metal loops that act as heat transfer media.
I am responsible for finalising specifications and submitting quotations to vendors for the manufacture of each piece of equipment, as well as studying the integration of each piece of equipment into a single plant.
I feel that I am able to make use of my previous experience in design-related work, such as checking drawings submitted by vendors and managing the overall schedule.
On the other hand, I realised that there are many things that we have to build ourselves, including the company's own systems. To be honest, initially I was surprised at how much we had to create from scratch, but I could feel that we are going to build an engineering company with our own hands, which is very rewarding.
Also, compared to my previous job, I am keenly aware that there are far more factors to develop. Instead of combining things that already exist, we have to create devices that no one has ever created before, so every day the whole project team uses their own ingenuity.
Coming to an environment where development is required day and night, I feel that I have also developed a mindset that I must always think of new things and challenge myself.
How do you see KF changing over the next five years?
I believe that Kyoto Fusioneering will lead the world's fusion industry.
Recently, when I looked back at the roadmap I made when I joined the company six months ahead, I realised that the business is progressing much faster than I had imagined at the time. I personally believe that we will further increase our presence in the world with our core technological strength, as we have established far more connections with suppliers and vendors both in and outside Japan that we could not have imagined six months ago, and new projects are being created one after another.
On the other hand, I also feel the need to expand our organisation. As I mentioned, in order to create "something no one has ever made", the development team recognises that one of the most urgent tasks is to recruit engineers with expertise in equipment design, electrical instrumentation design and process design, as well as knowledge in project management.
What would you like to achieve with KF?
One is to be involved in the construction of the world's first fusion plant as Kyoto Fusioneering.
My own roots are in plant engineering, so I want to build this company up as a fusion plant engineering company. Beyond that, I aspire to be involved in the construction of the world's first nuclear fusion plant. I will work hard for the day when I can stand in front of the world's first fusion plant that we have built and share the joy of its completion with my colleagues.
The second is to become a company that is absolutely necessary when building fusion plants around the world. To achieve this, I would like to contribute to the construction of a system that will establish and continue to strengthen the fundamental technologies of fusion plants.
*Press Release/World-first Integrated Testing Facility for Fusion Power Plant Equipment to be Constructed in Japan
■For further information visit our recruitment page.
■Previous Leadership Thoughts can be found here.