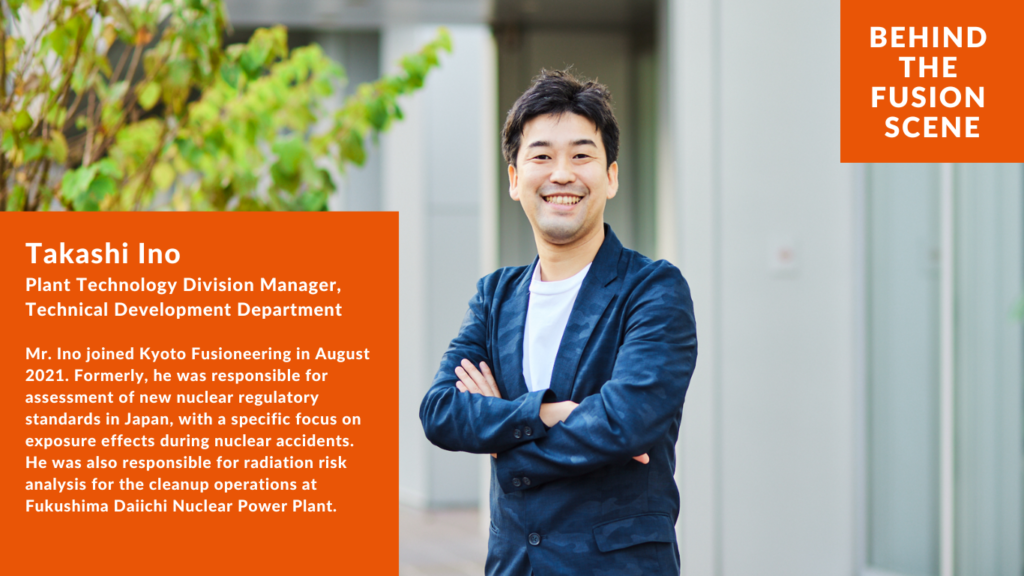 Takashi Ino, Plant Technology Division Manager, Technical Development Department
Mr. Ino joined Kyoto Fusioneering in August 2021. Formerly, he was responsible for assessment of new nuclear regulatory standards in Japan, with a specific focus on exposure effects during nuclear accidents. He was also responsible for radiation risk analysis for the cleanup operations at Fukushima Daiichi Nuclear Power Plant.
What interested you about the area of safety and risk?
At university, my research topic was focused on probabilistic risk assessment, and I modelled chemical plants, analysing the probability of occurring accidents and researching the assessment method itself. It was fascinating to be able to analyse the safety and reliability of plant systems numerically from a holistic perspective.
After graduation, I chose to work in the nuclear industry hoping to do something that would improve the safety of a highly complex plant.
Is there any experience particularly memorable for you?
I experienced the Great East Japan Earthquake within a year of joining the company, and it was a devastating experience for me. I had mixed feelings about nuclear power, working on site at nuclear power stations at the time.
In my fourth year with the company, I was given the opportunity to study nuclear engineering at university, which led me to confront nuclear accidents and nuclear engineering with more objectivity. After returning to actual work, I was involved in the safety assessment of nuclear power plants and in particular in the radiological risk analysis of the Fukushima Daiichi Nuclear Power Plant. Many of my colleagues and supervisors involved in safety and risk assessments were excellent people and working with them was a defining experience leading me to my current career.
In nuclear safety-related work, scenarios of radiological effects on the environment and people are analysed and evaluated with regard to their frequency of occurrence and radiological effects. The resulting understanding is applied to improving the safety of power plants in dialogue with stakeholders. Even if radiation risks meet the established regulatory standards, it is essential to continuously face these risks and build trust with stakeholders by communicating accurately and transparently in order to ensure that they are acceptable to society.
In addition, since the energy infrastructure sector exists based on the consent of stakeholders, it is often challenging to move things forward simultaneously, as there are many competing perspectives and challenges from different standpoints. As an expert in the field of safety and risk assessment, I have had the opportunity to engage in dialogue with those working on-site and with many stakeholders outside the company, which has been a great asset.
What made you join Kyoto Fusioneering (KF)?
I started to consider a career change when I had reached the prospect of a project for a permit to modify the installation of a power plant I was working on. Although it was a milestone in my work, it was also a good opportunity to get a fresh perspective on my career.
I have always been interested in many things, and during my job search I considered many different industries. Through the activities, I learnt that there are many companies in the world that can change society through innovation. For example, at a company dealing with electric kickboards, I felt the potential to change the concept of cities and mobility. Discovering a world I didn't know has been a great pleasure for me.
As I encountered various companies, I came to the mindset that I wanted to support people's lives through the technology I would be involved in and drive a change for the better in society.
KF was particularly impressive among the companies I found, and I felt that fusion energy is a major technological innovation that will change society and is an area that humanity must tackle. Before joining the company, I had an opportunity to talk with Mr. Nagao (CEO of KF), Prof. Konishi (CTO of KF) and Mr. Seko (Executive Officer of KF), and it made me feel that I wanted to jump into the world of fusion energy as soon as possible. I could see that fusion was a technology that we should develop, but also a field that I wanted to be involved in. Based on the trends in the fusion market, I thought it was now or never.
In particular, the first time I spoke to Prof. Konishi, he asked me to write an application for a permit to install a fusion plant, which still remains in my mind as a defining experience. While I was considering my future career trajectory, my previous career unexpectedly connected with the new world of fusion, and the decision to work at KF seemed to become clear to me at that moment.
What projects are you currently working on at KF?
Currently, I am mainly involved in two projects: a project on safety assessment of fusion plants and a project on the use of heat extracted from fusion.
In the safety assessment project, we analyse radiation risks of the whole plant for the future realisation of fusion plants and conduct studies leading to the analysis and licensing of the required safety features. We are also involved in studies related to the construction of safety regulations, for example by participating in academic conferences and in the Joint Special Design Team for Fusion DEMO in Japan. As well as ensuring technical adequacy, it is also important to engage with public stakeholders to ensure that fusion can coexist with the society.
In particular, safety regulations in the area of fusion energy have not yet been fully defined internationally, so we would like to examine licensing not only domestically, but also in collaboration with foreign start-ups and develop an international regulatory approach. At a conference in March this year, we presented a risk analysis of the safety assessments of fusion plants that have been studied in Europe, comparing them with general standards of radiological limits. We aim to use this as a stepping stone for future studies, and we are already working as a team to further develop this area of research.
For the use of heat extracted from fusion, we are working on projects related to the carbon fixation of biomass, as well as hydrogen generation using high-temperature heat. This year, in collaboration with the Kyoto Prefectural Government and Muko City in Japan, we verified the technology leading to carbon negativity by utilising biomass. I am very grateful for the opportunity to work directly with society and the local community, as I have always wanted to improve people's lives with the technology I work on.
The fields of both safety and heat energy utilisation are ones that interact with society, so we will continue to value the social connections and to promote technological studies that will change society for the better.
What are your impressions after working with KF so far?
Once again, I believe that the fusion energy market itself has great potential and that KF's business model can play a key role in industry creation and the realisation of fusion plants. In fact, the management members, business team and corporate team create the opportunities needed to realise KF's vision, support the company and create an environment where engineers can focus on technical studies. Every day I feel a sense of mission and responsibility that we, as engineers, must contribute to the realisation of fusion energy through solid technical demonstrations.
On the other hand, I am always struggling with how to strategically move the projects forward, because there is constant contention between the day-to-day tasks required of my role and the areas I am interested in further exploring in my research. It has been challenging ever since I joined the company. Although there is a significant amount of work ahead of us and progress often feels slow, there is a sense that what I am currently working on will lead to the realisation of fusion energy.
KF has evolved incredibly since a year and a half ago when I joined the company, and looking back at the last six or three months, the changes are remarkable. The number of employees has been increasing rapidly and not a single person has the same role or duties, and I don't think I could do the same thing now without any of them. The realisation of fusion energy can never be achieved by one person, and I believe that each and every one of us is a key person. That is why I want to work together with not only the members directly involved in the project, but also with the other members who support the project, so that we can realise fusion energy together at KF.
What would you like to achieve with KF?
There is a simple and significant goal: to build a fusion plant.
The safety aspect I am implementing is a concept that is not directly revenue-generating, but it is an essential part of building a plant. I also believe that it plays a very important role in gaining the trust of society.
I will make my best efforts towards the social implementation of fusion energy, by engaging in dialogue with our stakeholders about what the fusion plant is being built for, what the risks are on it and how to ensure its safety.